Christmas Orders by 15th December please!
2/12/23
Please note that this year we are closing rather earlier than usual for Christmas. So please can you place your Christmas orders by 15 December so that I can get them off to you in time. Please be aware that any orders placed on or after 16 December will not be processed and sent until the beginning of January. Sorry for any inconvenience.
Sara
Welcome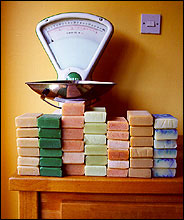 The Natural Soap Company makes some of the most luxurious and beautiful soaps available anywhere in the world. Tucked away in Wells-next-the-Sea on the North Norfolk coast, we are one of the oldest commercial handmade soap manufacturers in England. While we long ago outgrew our kitchen table, we still insist on the finest-quality natural ingredients and only ever use aromatherapy-grade essential oils for our scents and still hand-make, hand-cut and hand-wrap in small batches to our own unique, and by some standards decadent, recipes.
Please enjoy your visit to our website – it includes a safe, secure on-line shop linked to our first-class mail order service as well as details of our products for both the public and for wholesale and trade customers, including hotels, B&Bs and shops. And if you're ever in our corner of Norfolk, why not drop in and see us in our wonderful little shop right on Wells quayside?
    — Sara Phillips, founder
Visit our quayside shop
in Wells-next-the-Sea
We offer an efficient mail order service so you can buy our soaps any time you choose from this website. But if you're out and about in North Norfolk, why not drop into our small but perfectly formed shop right on the quayside in Wells? The Soap Shop offers our range of luxury soaps and toiletries hand-made just up the road as well as gift baskets, accessories and a sometimes eclectic selection of items from other producers such as scented candles and holders. The shop is easy to find... it's almost right under the gantry on the landmark Granary building overlooking the harbour and marshes. It's not all bracing walks, muddy children, crab-lines and buckets you know... pop in and pamper yourself!
Our opening hours are Wednesday, Thursday, Friday and Saturday, 11am to 4pm.
Hand knitted wash cloth
Live Life Without Plastic!
Our 100% cotton hand knitted wash cloths have so many uses... in the kitchen, in the bathroom, for your face, for your body, when you're out and about or for the dog! Individually hand-knitted in a hard-wearing 100% cotton yarn with a tight spin and high absorbancy, these are durable enough to last for years even with daily use. Naturally machine washable, they should remain bright and colourful wash after wash, making them an excellent and less wasteful alternative to disposable dishcloths and paper kitchen towels.
Assorted colours.
Metal soap tin
Good looking as well as practical, these aluminium soap tins are nice around the house and ideal to carry our soaps when you travel or to take them the gym or sports field. They are durable and include a removable drip tray that helps to keep your soap dry or that you can pull out to take the soap into a shower.
Pet Soap
A mild and gentle soap to use on your dog or horse. Made with milk powder for gentleness and neem oil for repelling insects, and scented with Kunzea, tea tree and lemon eucalyptus essential oils. We first made this to help restore outdoorsy-type muddy Norfolk dogs to somewhere near their original colour, texture and smell but our handmade pet soap works equally well on pampered pooches and princess poodles. There's nothing much in there that might upset your pet but please do a little patch test at first just in case.
Not tested on cats because, frankly, we wouldn't dare.